Improve The Performance Of Vehicle Using Our Quality Assured Spare Parts like Hydraulic Gear Pump, Heavy Duty Gear Pump.
About Us

Our Mumbai, Maharashtra settled Tractors Trading Corporation brings forth perfection in the form of Hydraulic Gear Pump, Heavy Duty Gear Pump, Cartridge Kit, Nozzle, Gear Pump, Diesel Injector and other allied spare parts. We have a habit of making various spares parts available to our diverse clients. In the best shape and dimension, all our spare parts are accessible at reasonable prices.
As an importer, we have been procuring fine quality of spare parts from establishments based in countries like Korea South, Korea North, Italy & United States. Attention to reliability of our vendor base is the reason for our commitment to serving to customers the best spare parts.

Branded Spare Parts
There is no denying that customers of the modern world look majorly for branded spare parts because branded products provide them surety for high quality. Having a good knowledge of the same, we, since many years, have been bringing forth branded spare parts. We mainly deal in FP Diesel brand of products. Our plethora of spare parts, designed and developed to perfection, are demanded in the Indian market majorly by garage owners.

Reasons to Partner with Us

Quality Products: We work in association with certified companies of the international market to obtain well-functioning, durable and cost-effective spare parts.
Reasonable Prices: We keep prices of Diesel Injector, Con Rod Bush and other spare parts of nominal and work as per the industrial norms.
Customer Benefiting Schemes: We know customers get attracted to companies, which given them benefits in not one but many ways. So, we we make schemes like acceptance of payments through many modes and scheduled delivery of products to benefit our customers.
Ethical Dealing: We indulge in trading and wholesaling of spare parts ethically. From our end, we always remain transparent with both our associate companies and customers to maintain with them lasting and fruitful relationships.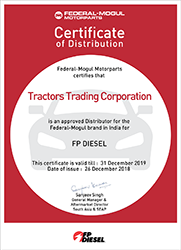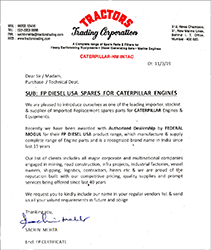 Get in touch with us